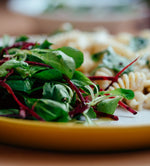 Ingredients Mixed greens, including radicchio, baby spinach, beetroot leaves, red leaf and lettuce    For the Dressing 1 teaspoon Goch Chilli Sauce Juice of half a lemon  1 tablespoon balsamic vinegar 2 tablespoons olive oil 1 teaspoon of honey (optional) Coarse salt, to taste Ground pepper, to taste   To finish Orange/ lemon slice (optional)   Instructions Clean and dry the green salad Unless using prewashed greens, clean the green salad by swishing them through a large bowl or in a sink filled with cool water. The clean greens will rise to the surface; the sand and sediment will fall to the bottom...
---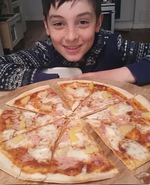 For the base: 300g strong bread flour, 1 tsp instant yeast (from a sachet or a tub), 1 tsp salt, 1 tbsp olive oil, plus extra for drizzling ​For the Pizza sauce: 100ml passata 1 tsp Goch Habanero Perfection Chilli Sauce (Hot!) ​ For the topping: 125g ball mozzarella, sliced A handful grated goats cheese Chopped pineapple Sliced Ham A handful of halved cherry tomatoes (optional)   To finish: handful basil leaves (optional)   Make the base: Put the flour into a large bowl, then stir in the yeast and salt. Make a well, pour in 200ml warm water...
---
Preparation: 5 mins, Cook:15 mins, Serves: 2, Energy: 230 Kcal Ingredients ½ tbsp olive oil, plus extra for drizzling 1 spring onion, chopped ½ small red pepper, thinly sliced into strips 1 teaspoon Goch Chilli Sauce. (We recommend ½ tsp if using our Habanero, Scotch Bonnet Burst or Naga Chilli Sauces) 2 large fresh tomatoes (chopped) 210g can of beans or chickpeas (drained) 2 slices seeded whole-wheat bread Finely chopped parsley to garnish Method ~ Heat the oil in a small pan, add the onion and pepper, and fry for about 5 minutes, until soft. ~ Add the Goch Chilli Sauce to the pan, along...