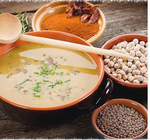 In a house full of family visiting from Botswana and Australia, this soup is made in two large pots, for mild and hot flavours. Once served, the silence as everyone devours the soup speaks volumes. It is always the nods and satisfying grunts that make this a favourite.
Preparation time: 25 minutes    Cooking time: 50 minutes    Serves: 4
Ingredients
4 tablespoons Naga Chilli Oil
200g, finely chopped  red onion
500g sweet potatoes, peeled and chopped
Two garlic cloves, peeled and crushed
7.5 cm fresh root ginger, peeled and finely chopped
400ml coconuts milk
2 tablespoons coconut flakes
600ml water
½ teaspoon salt
½ teaspoon freshly ground black pepper
Method:
On low heat, fry the onions for five minutes. Add the sweet potatoes and fry for five minutes or until golden brown.
Add the garlic, ginger, chilli sauce, water, and coconut milk.
Mix the coconut flakes, salt and pepper and add.
Bring the mixture to a fast simmer, then reduce the heat. Cover the pan and simmer for 30 to 40 minutes.
Cool for five minutes before blending the mixture in a food processor.
Return the soup to the pan for another 5 minutes before serving.
~~~~~~~~~~~
Traditionally, sweet potato is a staple in our Southern African diet. Sweet potatoes are boiled, roasted, mashed or made into a soup for a delightful lunch. The coconut milk is used to enhance flavours and give a thick, rich texture. The chilli sauce completes the soup for a spicy and satisfying meal.